Kali comes with Metasploit, the software from which you can create an instance of Meterpreter and control it. In order to create a Meterpreter instance that will specifically connect back to our attacking computer from OS X, we will use msfvenom to produce a Python-based Meterpreter.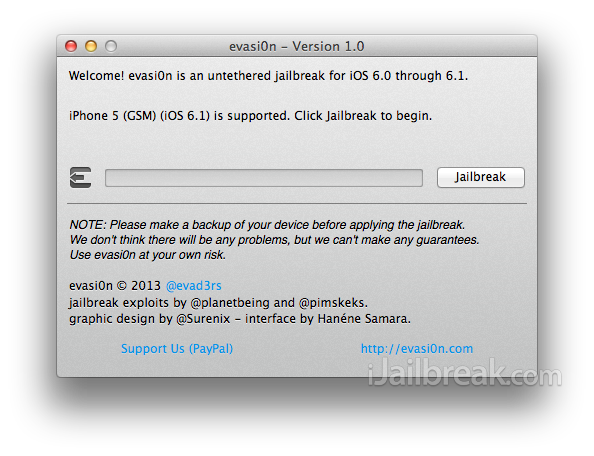 In this guide, I will be using the reverse tcp option, which simply means that the Meterpreter instance will connect back to our attacking system, rather then specifically connecting directly to it from the attacking system. Lets say in this example, the Kali system has an IP address of To start, open a new terminal in Kali and type in the following command:. Hit enter and the file pyterpreter. Now we need to set up a way to listen for the Metepreter when it is run on the target system.
Once Metasploit finishes opening, type the following command to start setting up a handler to listen for the Meterpreter:.
Malware Has a New Way to Hide on Your Mac
Now that we have the handler open, we need to set it up by executing the following commands consecutively in Metasploit:. The first command tells the handler what payload we are using. The third says which port to listen to. It's important that this port matches the one used in generating the Meterpreter, since that is the port it will be spawning to. I semi-arbitrarily chose that port since it's in a port range that isn't used by other common services.
dvd decryption software for mac?
writing software for mac os x!
firefox 3 para mac descargar;
Phantom Evasion – Bypassing Anti-Virus and Hacking Windows ,Linux,Mac OS X and Android;
In a Hacker Speed Test, No One Beats Russia's Spies.
The command exploit simply tells Metasploit to start the exploit. The -j flag tells it to run in the context of a job and -z simply means to not interact with the session once it becomes active. Running the exploit as a job allows it to run in the background and gives you control of the process running. Your screen should then look similar to this:. Now transfer the Python script we generated earlier with msfvenom to the target system. In actual practice, you might want to find some way to stealthily execute this on the target, but for the purposes of this guide I will assume you have a testable version of OS X to try this out on.
Once the. Now go back to your Kali system and Metasploit should have reported a new session opened. To list your sessions, simply enter the command "sessions" in Metasploit. Assuming the new session is 1, enter the following command to start interacting with the Meterpreter:. To see a list of commands available on this Meterpreter, simply enter the command "help".
Phantom Evasion – Bypassing Anti-Virus and Hacking Windows ,Linux,Mac OS X and Android – zSecurity
Some particularly useful commands you might find are execute, download, upload, shell, and sysinfo. For example, if you wanted to execute a command to make the Mac text-to-speech command say something on the target computer, you would use the following in Meterpreter:. We are working heavily on fixing first issues with the initial release of the jailbreak. So, I got no lead time on evasi0n7, nor was I asked for an official iOS 7 Cydia; I was not given builds, nor was I asked for things to test.
interstate condensed font download mac;
microsoft 2011 mac product key free.
change page numbers pdf mac;
free music albums downloads for mac.
simcity 2000 for mac lion.

This means they are going to have to push a new version of their untether to fix this oversight before I can push newer builds of Substrate. Also keep in mind that as more people learn about the release of the iOS 7 jailbreak, more will be logging into Cydia. Again, developers were given little if any heads up to this jailbreak release and thus have not had the chance to test their apps and make the necessary updates. Tweaks relying on mobilesubstrate have issues with early release of evasi0n.

Avoid all iOS and iTunes related tasks until evasi0n is complete. Why not just enjoy a brief break from the computer to stretch your legs? If the process gets stuck somewhere, it's safe to restart the program, reboot the device if necessary by holding down Power and Home until it shuts down , and rerun the process. Version 1. Discover New Mac Apps. Mac Update. Promo Desktop Apps for you Blog. Sign in with Facebook or. Sign in now Forgot password?

Snake Malware Ported from Windows to Mac

Create new account. Untethered jailbreak for all iOS 7 devices.

How to Jailbreak iOS 7 - 7.0.6 with Evasion for iPhone 5s, 5c, 5, 4s, 4

Follow This App Developer website: Next time, install evasi0n 7 with 1-click Learn how MacUpdate Desktop can install apps on MacUpdate with the simple click of the icon. Download Now. Top community discussions about evasi0n 7 Is there a better alternative to evasi0n 7? See discussion Is evasi0n 7 really the best app in System category? See discussion Will evasi0n 7 work good on macOS See discussion. Requirements for evasi0n 7 OS X